Upcoming Events
In addition to our weekly classes, the Katz always have a lot going on!  Whether it's putting on workshops, balls or social dances, performing at markets, community events or corporate functions, supporting local bands, or just hanging about having a dance, you're invited to come and find out what Swing dancing's all about!  Join in the fun, catch a Kat for a chat or just check out the scene!
Speakeasy Social Dancing
Our live music socials are back! With a new day and location, 2023 socials are going to be bigger and better than ever! Finish your week and your month with some chill vibes, swinging out to some of the best music in town.
*FLOOR POLICY* Folk Hall has pretty much the nicest dance floor in Canberra, and a strict shoe policy to take care of it. There are no heels, hard soles or soles that will mark the floor allowed. Please don't wear your street shoes (the ones you wear to arrive) while dancing; Bring some clean, soft-soled shoes to change into, and make sure there aren't any pebbles or similar stuck to the sole. You will be asked to leave the floor if we think your shoes might mark the floor.
Every last Friday of the month
7.30pm-10.30pm
$20 at the door or pre purchase here
Feel free to bring snacks and drinks, or grab a bite beforehand at the nearby Dickson or Watson shops.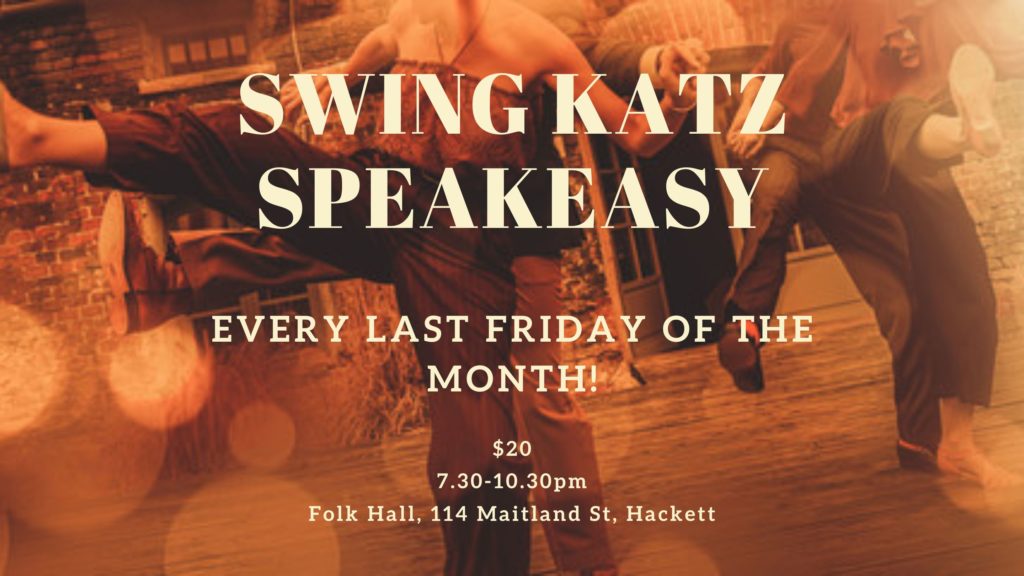 Past Events
SATURDAY, DECEMBER 17, 2022 AT 7.30PM
Christmas Party at Albert Hall, ft Connexion Big Band
Albert Hall
SAVE THE DATE! Christmas is coming and we want to celebrate it with YOU!
Join the Swing Katz and ConneXion Big Band for a great night of dancing, food, music, more dancing and great fun. Invite your friends, bring some drinks and get ready to swing out!
Yep it's that time of year again and we've saved the best event for last! The Canberra Swing Katz CHRISTMAS PARTY!!!
Living in Oz it never feels like Christmas until it gets really hot, and Albert Hall on the 17th of December will be getting on like a house on fire as the not to be missed CONNEXION BIG BAND gets us well and truly swinging into the festive spirit.
It's time to eat, drink, and be merry! So sit back, relax, and feel free to bring whatever refreshments you like!
So join us at 7.30pm on Saturday the 17th of December at Albert Hall, and have yourself a merry little Christmas with the Swing Katz!
(Or rather an awesome, massive, never to be forgotten, not easily gotten over, once in a lifetime night of your life!!!) A live Big Band, social dancing, performances, – is there any way this Swingin' Christmas Party could get any better??!
---
THURSDAY, OCTOBER 27, 2022 AT 8:30 PM
Halloween Hop with Belco Jazz Band!
Majura Hall, Dickson
The Swing Katz annual Halloween Hop is back! One of our most beloved events, it's your chance to dress to impress in your favourite Halloween get-up. Join us from 8.30pm at the Haunted Majura Hall for fantastic tunes from our friends at The Belco Jazz Band, great dances and some fun surprises!
$20 (to support local music!)
8.30pm Thursday October 27
6.30pm Shag Class
7.30pm Beginner's Swing Week 6
Majura Hall, Dickson
---
Nothing boosts your dancing enthusiasm and confidence like immersing yourself in a weekend of workshops! Until you experience it for yourself, you can only imagine how worthwhile and satisfying it is to spend a weekend learning your favourite dances.
This spring is swinging with a social dancing and workshop weekend in Canberra!
---
---
---